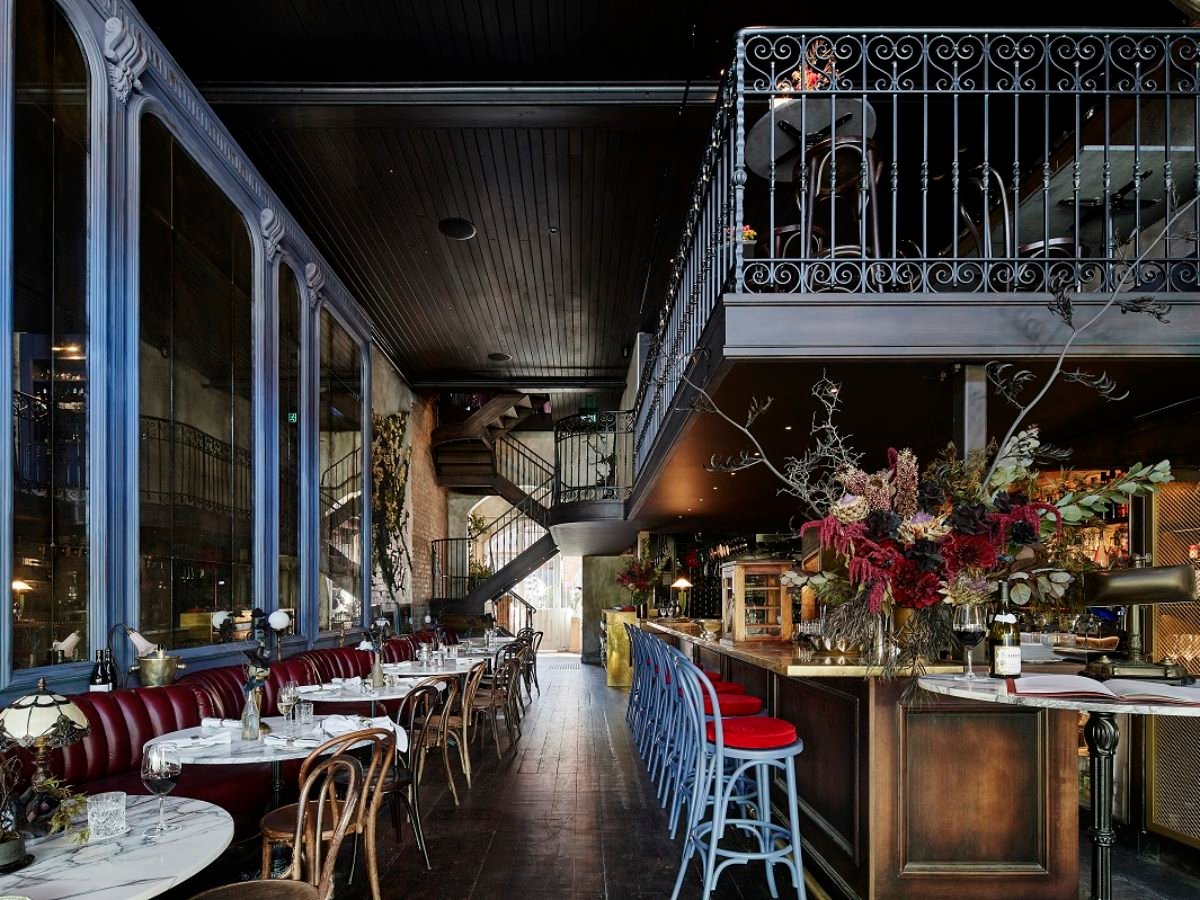 Whether you are looking for a great place to eat dinner or a spot to enjoy a night out, Melbourne restaurants have you covered. There are a variety of restaurants to choose from, including some of the best spots in the city. From traditional cafes to high end fine dining, there is something to satisfy everyone's palate. The next time you fly into Melbourne with Cathay Pacific, make sure to grab a bite to eat at one of these restaurants.
Stokehouse
Located on St Kilda's foreshore, Stokehouse is a fine dining restaurant with a casual ambience. The restaurant is a favourite among locals and tourists alike.
Stokehouse features an evocative beach house decor, reclaimed timber lined walls and tubular glass chandeliers. There are lounges and bar areas on both levels. There is also a rooftop terrace.
Stokehouse is a destination restaurant in itself, offering award-winning seafood in a beautiful setting. The restaurant also offers a package that includes a three course dinner, wine and service. There are also private dining and cocktail parties.
The restaurant also has a small fish and chips kiosk called the Paper Fish. It serves tempura battered fish and chips.
The most popular dish is a fried King George whiting, which is coated with a tough sourdough crumb. A seared tuna with wasabi syllabub, pickled radish and Spanish mackerel marinade is also available. The restaurant also has an award winning wine list.
The Stokehouse restaurant is a reincarnation of an iconic two-story venue on St Kilda Beach. The new location is a replica of the original and features a casual grill and eatery Downstairs and a fine dining restaurant Upstairs. The ground floor is planted with indigenous beach flora.
Smith & Daughters
Founded by chef Shannon Martinez in 2014, Smith & Daughters is a vegan restaurant that has gained international acclaim. With a distinctive decor and a punk aesthetic, the restaurant has re-defined the concept of vegan dining.
Having opened in Fitzroy, Smith & Daughters has become a local icon for plant-based dining. Known for its delicious, plant-based menu, the restaurant has earned a loyal following among vegans and meat-eaters. It has also earned international recognition, placing in the Nourish Vegan Awards.
Now, the iconic Melbourne restaurant has announced a new venue. Smith & Daughters is moving to a new location in Collingwood. The new venue is set to open in early 2022. It will be situated in a 500-square-metre site on Cambridge Street, formerly occupied by Bar Rosella.
The new venue will include a restaurant and a deli. The deli will feature a cafeteria-style eatery that will feature a variety of hot and cold dishes, plus a carvery. The deli will also feature a daily-changing deli plate that includes a main dish, two sides, a beverage, and dessert.
Lagoon Dining
Located on the former site of the 66-year-old Carlton institution Lygon Food Store, Lagoon Dining has transformed this corner of Melbourne's Italian quarter into a contemporary Chinese restaurant. With its black and white tones, the contemporary dining room is a sleek contrast to its predecessor.
The kitchen is helmed by Keat Lee and Ned Trumble, who draw from their Malaysian and Thai culinary backgrounds. Their cross-continental culinary influences are apparent in dishes such as the Xinjiang-spiced lamb ribs.
The drink list is impressive. A selection of local and imported beers, wines and spirits is on offer. There are also a few cocktails that are worth a mention. The corta y raspa la atalaya is a briny, green apple wine that pairs well with Southeast Asian food.
The menu includes items like the fresh spanner crab litter dish and lap yuk, a Chinese doughnut. In addition to the regular menu, Lagoon offers a selection of semi-private event rooms that are available for hire. There are also plenty of vegan options to choose from.
Lume
Located in a former burlesque lounge in South Melbourne, Lume is a fun, experimental high-end restaurant that challenges conventional notions of fine dining. While Lume does offer a traditional menu, there is a lot to be said for its unusual presentation of dishes. This has won the restaurant steady praise from critics. The menu includes some interesting choices, such as a smoked eel taco and a mango dessert with yoghurt.
The degustation menu is an interesting choice for those seeking an exclusive culinary experience. It is available in two tiers, with a four course option costing $175 and a nine course option priced at $245. There is also a vegan option available.
The menu at Lume consists of 14 items, which are served during lunch and dinner. Some highlights include the Meyer Lemon Tree dessert, which was presented with a virtual reality headset. Another notable dish is the Sea Corn Taco, which features crab custard in a corn silk tortilla. This dish is a delicate taco, but it's also crisp and spicy.
Navi
Known as Australia's food capital, Melbourne has a rich culinary history. From the 40,000 years of the city's earliest human inhabitants, to the gold rush of the 1850s, to the emigrants who flooded the city's suburbs and laneways, Melbourne's food culture is deeply rooted in the region's diverse ethnic communities. And today, Melbourne is one of the world's most food-forward cities.
Melbourne is also home to many restaurants that feature locally-sourced produce. These restaurants often use native Australian ingredients to create delicious dishes. For example, The Mansion in Melbourne offers a contemporary dining room and a rooftop patio with stunning views of the city. The menu includes items such as ahi tuna tacos and BBQ bacon-wrapped shrimp.
Another Melbourne restaurant that is focused on local ingredients is Coda Fusion. It pays homage to Southeast Asian cuisine, using local Australian produce to create authentic dishes. The restaurant's chef, Adam D'Sylva, brings his creative culinary direction to the menu. The restaurant is open for lunch and dinner, and is closed on Sunday. The restaurant recommends the Southern Thai beef cheek green curry and the smooth pear and sorrel bombe alaska.
Crush XI
Located in the historic Flatiron building in the heart of downtown Melbourne, Crush XI is a surprisingly upscale yet casual dining experience. The place is home to a menu boasting a number of tasty dishes including crab cakes, lobster tacos, and a number of specialty beers. They also have an impressive selection of wine and spirits. They are also open for dinner and have select brunch hours.
Crush XI has also won a number of awards for its signature craft beers, specialty cocktails, and impressive restaurant design. The place also has a number of special events, including a brunch on Fridays and Sundays. As for food, the menu boasts some of the most interesting items you'll find in the Sunshine State. Besides their tasty entrees, the place also has a number of innovative appetizers, and one of the best desserts in the state. It also boasts a snazzy-looking rooftop patio. They have won the award for best restaurant in Brevard County several times over, and have been lauded as one of the best new restaurants in the area.
Nomad Melbourne
Located under the Adelphi Hotel, Nomad is a new Mediterranean-inspired restaurant. Its menu highlights local produce, with produce from Victorian growers including Ramarro Farm in the Dandenong Ranges, Messina Dairy in Numurkah and Western Plains coppa. The restaurant also features an extensive drinks menu.
Nomad's bar seating is buzzy and spacious. The bar has a large selection of cocktails, including the Mandarin and Bay Spritz, made with whole mandarins. The beverage director has also created a comprehensive wine list. This wine list highlights small growers making great wine. The wine list is a mix of great wines and sustainably sourced wines.
The menu at Nomad Melbourne is a blend of Middle Eastern, Spanish and North African flavours. The signature offering is centred around house-made charcuterie and the wood-fired oven. The restaurant's menu also includes local meat and produce. The menu has a small number of mainstays and a lineup of new dishes.
Desserts are unique, with offerings such as burnt coconut ice cream, chocolate and sesame seed lavosh and honey. Other desserts include smoked strawberries, pistachios, wood roasted apple jam and an olive oil ice cream sandwich.